Scoop.it!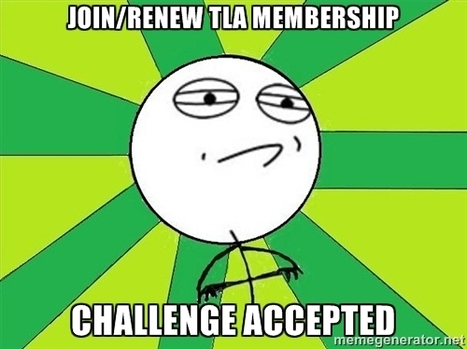 Tennessee Library Association's insight:
In tough times, we all have to make careful decisions about our resources and commitments. Our libraries need support and professional leadership to survive. The Tennessee Library Association (TLA) supports libraries at the local level as well as the regional and national levels by affiliation with the Southeastern Library Association (SELA) and the American Library Association (ALA), respectively.
Here are just a few reasons we believe a TLA membership is an important ...investment:
*Advocacy – to communicate libraries' value to the community, to stimulate improvements, and to influence public policy and funding;
*Awards – to recognize excellence in the profession. Internships are available for library school interns to work and attend the annual TLA Conference; Members are eligible to apply for the Edwin S. Gleaves Scholarship to defray costs in attending Library school;
*Communication –learn and network through TLA online publications, the TLA-L listserv, and TLA's presence on social networking sites like LinkedIn, Facebook and Twitter;
*Continuing education opportunities – FREE access to TLA sponsored webinars, which occur roughly once a month on a variety of topics
*Discounted Rate for TLA Annual Conference – Members enjoy a discounted registration rate for annual conference set for April 30-May 1, 2014 in Murfreesboro. Institutional Members are eligible to send two non-TLA members to conference at the member rate.
*Professional development opportunities – Opportunities are available to publish research in Tennessee Libraries and lead presentations at TLA annual conferences;
*Employment assistance – Employment opportunities are available through the TLA Website listing online Jobs – both for jobseekers and employers;
*Discount membership or combined memberships – There are two discount rates for TLA Membership: 1) STUDENTS: enjoy membership in both TLA and ALA for one low price of $35! 2) Combined TASL/TLA: Deduct the $30 TASL dues from your TLA dues for double membership.
*Group affiliations – TLA members are entitled to free membership in one section and one roundtable.
The membership year is January 1-December 31 (renewals and enrollments after October 1 encompass 2014 and the remainder of 2013). You may pay online with credit card or via mail with forms posted at
http://www.tnla.org/displaycommon.cfm?an=3
.