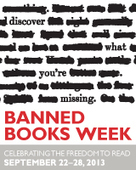 Banned Books Week is Sept. 22 – 28! Have you started thinking about your display? Check out last year's submissions on TLA's flickr and Facebook page for ideas.
The TLA Intellectual Freedom Committee is hosting its annual Banned Books Display Contest. Last year, we received over two dozen submissions, and we can top that number this year.
This year, the winner will receive a certificate!
There are three easy steps:
1. Have a Banned Books Week display!
2. Take photos of your Banned Books Week display!
3. Send the photos, the name of your library, and any other related details to Anthony Prince (aprince1@tnstate.edu) before October 4, 2013. Photos of Banned Books Weeks celebrations will be posted to TLA's website and Facebook page.
As with last year, we want you to vote on Facebook for your favorites (Voting = Liking your favorite display). The winning library receives one full year of bragging rights and a certificate for having the best display!