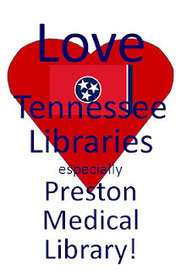 "...You can participate by visiting Preston Medical Library and asking for a postcard to share your library story. Or, go online and say what Preston means to you.
How else can you participate?
February 6-10: Go to the library and receive a free custom-designed button so you can wear your love of Preston on your sleeve (or lapel). Supplies are limited!
February 13-17: Go to the library and show them the button you picked up the previous week - or, wear a vintage button from a previous year - and you'll receive another gift."