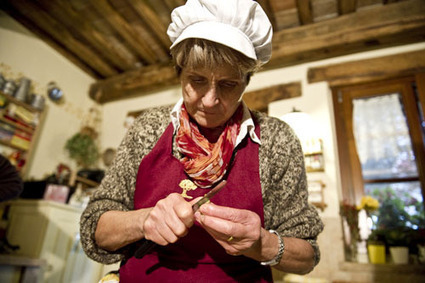 This is a classic dish from Marche. To stand a chance of making them, you really need a very large olive like those found around Ascoli Piceno; the key is stuffing the olives plentifully before frying them. In Marche, they are pretty ubiquitous, popping up as appetizers in the fanciest of restaurants right through to your local pizzeria. And very delicious they are too.
This recipe is courtesy of Paola from Azienda Agricola Fiorano and her mum.
Ingredients for 4
Big fat olives still on the stone – (classically Ascolane olives) about 30
Pork – 200g/7oz
Turkey breast – 200g/7oz
Beef – 200g/7oz
Mortadella – 100g/3.5oz
Parmesan – 80g/2.8oz
Eggs – 4
White wine – A glass
Nutmeg – to taste
Salt – to taste
Pepper – to taste
Bread crumbs – as required
Flour – as requested
Extra virgin olive oil – as required
Click on the photo to read more...
Via
Mariano Pallottini
,
Good Things From Italy