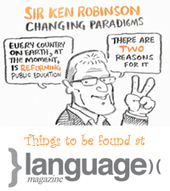 A new study is exploring how a person's native language can influence the way the brain processes auditory words in a second language.
Annie Tremblay: [C]ues, such as intonation, are harder to master and are more likely to be influenced by a speaker's native language. Tremblay points to English where a stressed syllable is a strong indication that a new word is beginning. But in French the opposite is true; prominent syllables tend to be at the end of words.
"This kind of information can't be memorized in a language such as French. It has to be computed. And this is where second language learners struggle," Tremblay said.
An example of confusion is the French phrase for cranky cat, which in French is "chat grincheux." For a brief second, the phrase can sound like the English pronunciation for "chagrin," a word with French origins.