Scoop.it!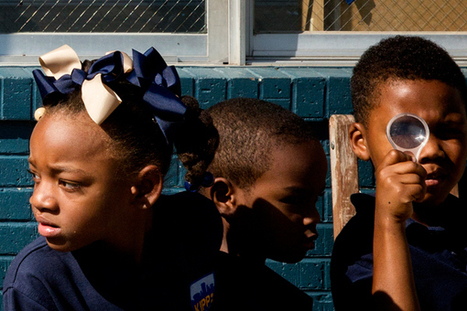 New Orleans is home to the nation's first all-charter district. Is this the future of education?
Via
Artur Coelho
Monica S Mcfeeters's insight:
Interesting that we keep hearing you cannot improve schools by throwing money at them ...then why are the Gates and Walmart heirs and other rich people throwing it at charters rather than neighborhood public schools? People are always free to donate to public schools as well.
Community public schools would leave the power of control with those in the community rather than the owners of the system sold to the community. Dividing a community effort has much the same outcome as dividing a family. The unit and the connection is weakened. Rather than playing on the same team for common community goals each is instead a threat or competition to the other. If the goal is to drop the teaching credentials to lower the standards of entry teachers to people who didn't bother to train to enter the profession but instead desire to compete with other teachers for pay then that model should be allowed to the public schools as well if it actually is a valid model.
Competition is not really a team sport...it is dog eat dog activity and everyone knows that to be true. Competitive games are fun as a thrill at a sport activity, but let us face the fact nearly everyone at the game is sitting out and watching at the end of the day and not playing on the field. Those that are only very, very rarely stay in the game for a life time. Is that really what we want for our lifetime learning experience?