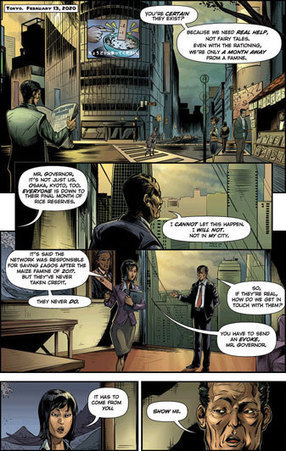 Robert Hawkins, a strong advocate for integrating Information Communication Technology into education, shares his ideas with Creative Times about the development of a pedagogical model that combines ICT with learning to produce a 21st century work force. Hawkins is the Executive Producer of an online gaming program, EVOKE (www.urgentevoke.com), that is pushing and inventing boundaries for improved learning.
Set in 2020, EVOKE is an online crash course that challenges students to address future world crises, such as food and water shortages. Launched March 3, 2010, the ten week course enabled 20,000 players around the world to participate and develop innovative approaches to solving real global challenges using 21st century skills.
"The assumption that we're making is that more time on task translates into more knowledge and skill acquisition," said Hawkins who is also a Senior Education Specialist at the World Bank which developed EVOKE. "The evaluation shows that players spent quite a bit of time engaging with the content. We think this is partially due to the incentives inherent in playing a game and receiving rewards. If this mode of engagement develops the type of motivation in students to stick with a subject, then we think there is some positive learning and skill acquisition taking place as a result. Beyond the motivational factors that contributed to more time with the content, we also saw a great deal of peer learning and interaction through the mechanics of the social aspects of the game. In many instances, students learn and understand concepts better from their peers.
I think part of the success of EVOKE was that it was driven by a very compelling story. The narrative gave students the space to imagine alternative possibilities. I think that provoking students to think 10 to 20 years into the future cultivates the imagination and is critical to thinking about the possible, about students thinking of things outside of their day-to-day lives, being exposed to new perspectives. I think that the ability to imagine is the first step in doing and actually following through and creating something."
Click headline to read more--
Via
Chuck Sherwood, Senior Associate, TeleDimensions, Inc