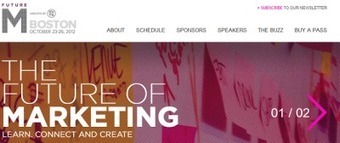 "It's not the third screen or second screen­—it's the first screen. It's one of the few things we walk around with all day. We sleep with it within an arm's reach and, for most of us, it's the first thing we check every morning."
Speaking at Tuesday morning's Marketing to the Digital Consumer panel at FutureM, John Caron, Vice President of Marketing for Catalina, provided a fresh perspective on the evolving relationship between humans and the screens we interact with.
With more than half of all Americans now using smartphones and nearly a quarter of all online activity now coming from mobile devices—we have stumbled into a new age in technology and the future of mobile marketing has unexpectedly shown up at our doors.
Is your business equipped to market to the new digital consumer?
This article featuree eight things all small businesses need to know about the future of mobile marketing.
Via
Brian Yanish - MarketingHits.com