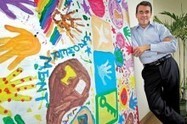 Looking for stories to spark discussion within tutorials, Health & Social Education etc?
Well, Inspire My Kids is a website featuring stories that are designed to inspire learners to embrace "positive actions".
Inspire My Kids uses...
- videos,
- pictures,
- audio, and
- text
...to tell the stories of inspiring people and groups of people.
User can...
- find stories on Inspire My Kids by browsing through the list of values and topics.
- refine their story search by age appropriateness.