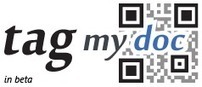 TagMyDoc is a web service that enables practitioners to share documents with learners quickly and more conveniently.
TagMyDoc...
- lets users upload and tag their digital documents;
- generates download URLs for these documents;
- encodes the URL into a QR code that users can share with smartphone owners.
People who own a smartphone can easily scan the code and download the document.
Users can also set a password for files.
Downloads of files are tracked and displayed on the dashboard.
TagMyDoc offers free as well as premium packages; to try out the service, you should check out the free package that supports individual file uploads of 2MB and provides an overall storage space of 1GB after users sign up for an account.
File formats that users can upload to the site include jpg, tiff, png, bmp, gif, doc, docx, ppt, pptx, and pdf.