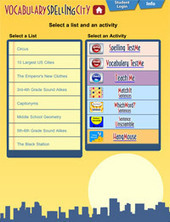 SpellingCity, that I included in the Functional Skills eMagazine Supplement some time ago, has recently launched a free iPad and iPhone app for learners.
The app gives learners access to the same vocabulary lists that they use on the SpellingCity website.
SpellingCity's list of words for students exceeds 42,000.
Learners and practitioners who register for accounts can create custom word lists (Note, new lists have to be made online. Through the app you can only access existing lists).
If learners don't register they can simply choose from the many suggested word lists created by SpellingCity.
The SpellingCity app offers six types of practice activities. The activities are...
- Teach Me,
- Test Me,
- Match It,
- Word Unscramble,
- Hang Mouse, and
- Which Word.