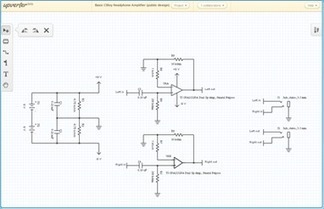 Here is one for engineering/electronics learners looking for applications that let them create electronic circuit diagrams and schematics.
Upverter offers users a wide variety of electrical components including opamps, relays, antennas, power supplies, microcontrollers, and a lot more.
They can use either generic components or real part models. Each real part model is accompanied by details such as pin labels.
Users can download the schematic files for their project to use with a PCB creation program or simply to get the circuit's image file in the PNG file format.
Upverter offers a free account that lets users have unlimited public projects and up to three private projects.