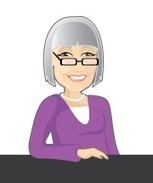 One for ACL Providers - Skillful Senior is a computer skills site for the older beginner/learners to learn the IT/ICT skills they need.
The site has interactive animated tutorials that teach...
- a bit about ergonomics (how to use your computer in a way that won't result in pain)
- how to use a mouse,
- the arrow keys on the keyboard,
- how to email their grandchildren
- get medical information on the Internet and
- touch typing.
Each tutorial is helped along with a voiceover by a digital character. They CAN do it all!.