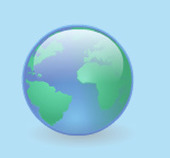 Are your learners reading a novel or studying history? Trying to give them an idea of where everything is taking place? Why not give them an opportunity to discover the location for themselves.
TerraClues allows practitioners to create Internet scavenger hunts, or assign already created scavenger hunts, to help learners discover new places.
Note: when practitioners create hunts, they also make them available to other practitioners and learners throughout the world.
Why not, instead of a traditional research report or poster project, have learners create their own scavenger hunts?