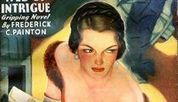 Radiolab, with Jad Abumrad and Robert Krulwich, is a radio show and podcast weaving stories and science into sound and music-rich documentaries.
Radiolab, in their words, is an online radio show...
- about curiosity.
- where sound illuminates ideas, and
- where the boundaries blur between science, philosophy, and human experience.
A radio show that tackles all sorts of whacky science topics that learners are wondering about and/or forgotten to wonder about.
With Listen - Read - Watch options, it isn't only science practitioners who will find useful resources.
Functional English and other practitioners will find Radiolab worth listening to, reading and/or looking at!