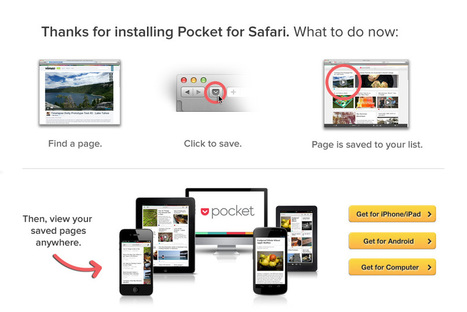 "When you find something you want to view later, put it in Pocket." That is the former ReadItLater's new motto. More and more we are seeing these all-in-one systems that are hardware and software agnostic. Evernote and Dropbox spring to mind in my own personal use. Pocket is another. I have used this app before, but now I am ready to give it a second look especially since I am working to bring my iPad into my teaching workflow.
With the advent of sites like IFTTT it is possible to tie all of your digital life together, but it is also true that adding new niches like this can be disruptive, too. For example, when and how will I review all the gathered pieces that this app brings in? Will some of it happen on the fly and others later? I have had similar issues with Diigo that I have settled by using that tool for very specific purposes, for example annotation, shared lists, group lists, and presentation. Will the same be true of Pocket? Will I use it for specific projects? Will I have a specific time daily for review? Will I keep everything, archive, or dump after looking.
One thing is very certain--I won't be able to figure it out without trying it religiously for a couple of weeks. I will keep you posted on this little experiment and sample of one.
Here is where I have Pocket installed:
Desktop Mac
Desktop PC
iPad
iPod
Android phone
Firefox
Chrome
IFTTT
Pocket read/archived PDF's---> Dropbox
Pocket read items--> Buffer
Google Reader starred items--> Pocket
YouTube vid marked watch later--> Pocket
RSS feed (Cool Tools) --> Pocket
FavTweet--> Pocket
Pocket--> Instapaper (Kindle reading)
NateSilver's 538 blog--> Pocket
Release the hounds, Smithers! And let the iPad be Mission Control.