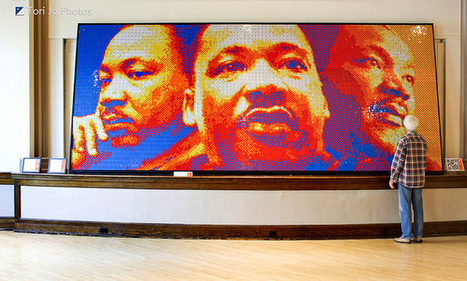 Terry says...Sometimes when you teach you just chum the water with bloody fish just to see what surfaces. Yes, I think of this as tech pedagogy. It shows us the beauty of repurposing, of taking something that is not a pencil and cannot make a mark then using it to inspire as art. The title of the piece is "Dream Big" It shows us that iconoclastic dreams are not only worthy but necessary for the evolution of the species.
I wonder how much the installation weighs?
Rusty Blazenhoff says....4,242 Rubik's Cubes were used by artist Peter Fecteau to create Dream Big, an amazing 1,000 pound mosaic sculpture that depicts civil rights leader Martin L...