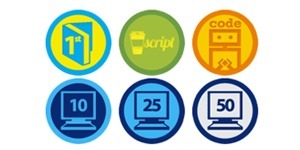 Codecademy is the easiest way to learn how to code. It's interactive, fun, and you can do it with your friends.
From the NY Times, 9/14/11
"That's how he and Mr. Bubinski got the idea of creating a way to help newbies to computer science learn coding skills painlessly and quickly — with easy lessons on the Web and built-in rewards to keep them motivated. The idea led to Codecademy, an online tool designed to give computer science newbies a crash course in the basics.
"Codecademy was introduced less than a month ago, and since then, more than 550,000 people have used the site, completing more than six million exercises. Mr. Sims said most users do more than just peruse the site; they spend time working their way through the exercises."
Via
Jim Lerman