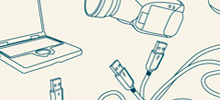 This is a quick video and a short list of digital tools for telling stories. Think more like being a citizen reporter creating your biz stories or customer stories on the fly than a film maker with these tools.
What I like about the list is that it shares tools for capturing stories (yours or someone else's) on your phone. It also lists tools that quickly create timelines or maps for your stories.
Go have fun and share with me your results!
Via
Karen Dietz