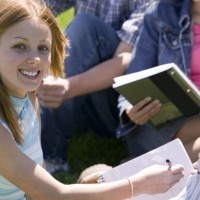 1. College costs have increased by 50% from 2000 to 2009.

2. According to a Pew Research Center study, 7 in 10 college chief executives rated American higher education as one of the best in the world, but only half of them think that the U.S. will keep this ranking 10 years from now.
3. In 2010, America's collective student loan debt ($800 billion) was greater than its credit card debt.
4. One-third of four-year American colleges reported lower graduation rates in 2008 than in 2003.
5. Post-baccalaureate education enrollment (taking classes after earning a bachelors) is now growing at a faster rate than undergraduate enrollment.

6. According to a poll from the Chronicle of Higher Education, only 55% of 4-year college graduates believe the primary purpose of college is for job or career preparation. A more common response was intellectual growth or personal growth.
7. Almost half of all parents of incoming college freshmen make less than $75,000 per year.
8. For the '08-'09 academic year, only 5 colleges charged over $50,000 for tuition, fees, room and board. For '09-'10, 58 colleges did. For '10-'11, 100 colleges charged that amount.
9. Within 10 years of graduating, 40% of Americans with a bachelor's degree continue on to enroll in a graduate or first-professional degree program.
10. One-fourth of college graduates who earn less than $50,000 per year say college was not worth the investment.

11. From 1988 to 2008, undergraduate enrollment in America grew from 11.3 million to 16.4 million.
Sources:
The Chronicle of Higher Education
The New York Times
National Center for Education Statistics
EducationEducation InequalitiesEducation ReformFinancial Education
-->From a systems' perspective, design changes can improve or change these discouraging "facts."
Via
Dena Rosko