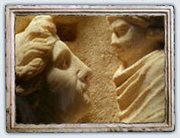 Ancient Rome was a man's world. In politics, society and the family, men held both the power and the purse-strings – they even decided whether a baby would live or die.

Families were dominated by men. At the head of Roman family life was the oldest living male, called the "paterfamilias," or "father of the family." He looked after the family's business affairs and property and could perform religious rites on their behalf.

Absolute power

The paterfamilias had absolute rule over his household and children. If they angered him, he had the legal right to disown his children, sell them into slavery or even kill them.