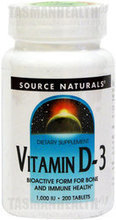 Price: $17.50, SKU: SN19745, Brand: Source Naturals, Size: 200 tablets
Dec :
Vitamin D is essential for life. It is naturally produced in the skin but only becomes biologically active with exposure to sunlight. This sunlight vitamin maintains healthy calcium and phosphorus levels needed for bone strength, supports muscle tone in older adults, and plays an important role in active immune response. Vitamin D3 or cholecalciferol is the most efficient form of vitamin D. visit us
http://www.tasmanhealth.co.nz/source-naturals-vitamin-d-3-1000iu/
for more details!!