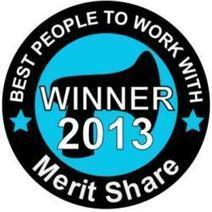 6 companies were selected from over 400 companies to receive the "Best People To Work With" award from MeritShare.
MeritShare celebrates the first round of winners of the "Best People To Work With" award. The awards are given to companies who demonstrate high levels of employee participation in peer-to-peer recognition.
______________________________

"With the competition fierce for great talent, the timing ...of this award is very important for us to retain and recruit the best people." ~ Marla Schimke, Zumobi VP of Marketing
______________________________


The companies were selected from over 400 different companies, ...who enrolled in MeritShare's peer-to-peer recognition program.
MeritShare announced the following 6 award winners:
Beachmint, First Rehab Life, Green Hasson Janks, SchoolSpring, Trophies2go, and Zumobi.
"We are thrilled to have received this award", says Jeff Anderson CEO of Trophies2Go and board director for the Awards and Recognition Association. Anderson adds, "Happy employees mean great customer service and that's great for business, we are putting the award on our website and in our own showroom."
The type of recognition can vary by company, and the defining characteristic of peer recognition is that the award nomination is made by co-workers and peers as opposed to supervisors and managers.
In Seattle, the "Best Company To Work For" winner Zumobi offers a "Thanks with a Z" award and in Los Angeles, "Best Places To Work" Green Hasson Janks's employees give a "Encourage New Ideas" award to foster creative thinking.