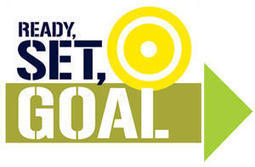 "Goal setting doesn't work." There are times it can be helpful, but as a performance tool, reconsider.

Goal behavior:


34% of Americans are overweight and a further 34% are obese.... Despite the proliferation of weight loss programs that usually focus on weight-loss goals. ...the problem may be inherent in the validity of goal setting.
Recent neuroscience research shows the brain works in a protective way, resistant to change. Therefore, any goals that require substantial behavioral change or thinking-pattern change will automatically be resisted. ...When fear of failure creeps into the mind of the goal setter it commences a de-motivator with a desire to return to known, comfortable behavior and thought patterns."
Aubrey Daniels, author of, Oops! 13 Management Practices That Waste Time and Money, ...cites a study that shows when individuals repeatedly fail to reach stretch goals their performance declines. Another study showed 10% of employees actually achieved stretch goals.
The authors of Goals Gone Wild, [identify] negative side effects associated with goal setting: "An overly narrow focus that neglects non-goal areas; a rise in unethical behavior; distorted risk preferences; corrosion of organizational culture; and reduced intrinsic motivation."
Related posts & tools by Deb: