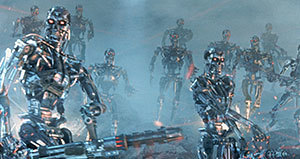 Computers might soon become more intelligent than us. Some of the best brains in Silicon Valley are now trying to work out what happens next.
Nate Soares, a former Google engineer, is weighing up the chances of success for the project he is working on. He puts them at only about 5 per cent. But the odds he is calculating aren't for some new smartphone app. Instead, Soares is talking about something much more arresting: whether programmers like him will be able to save mankind from extinction at the hands of its own most powerful creation.
The object of concern – both for him and the Machine Intelligence Research Institute (Miri), whose offices these are – is artificial intelligence (AI). Super-smart machines with malicious intent are a staple of science fiction, from the soft-spoken Hal 9000 to the scarily violent Skynet. But the AI that people like Soares believe is coming mankind's way, very probably before the end of this century, would be much worse.
Besides Soares, there are probably only four computer scientists in the world currently working on how to programme the super-smart machines of the not-too-distant future to make sure AI remains "friendly", says Luke Muehlhauser, Miri's director. It isn't unusual to hear people express big thoughts about the future in Silicon Valley these days – though most of the technology visions are much more benign. It sometimes sounds as if every entrepreneur, however trivial the start-up, has taken a leaf from Google's mission statement and is out to "make the world a better place".
Warnings have lately grown louder. Astrophysicist Stephen Hawking, writing earlier this year, said that AI would be "the biggest event in human history". But he added: "Unfortunately, it might also be the last."
Elon Musk – whose successes with electric cars (through Tesla Motors) and private space flight (SpaceX) have elevated him to almost superhero status in Silicon Valley – has also spoken up. Several weeks ago, he advised his nearly 1.2 million Twitter followers to read Superintelligence, a book about the dangers of AI, which has made him think the technology is "potentially more dangerous than nukes". Mankind, as Musk sees it, might be like a computer program whose usefulness ends once it has started up a more complex piece of software. "Hope we're not just the biological boot loader for digital superintelligence," he tweeted. "Unfortunately, that is increasingly probable."
Via
Dr. Stefan Gruenwald