Scoop.it!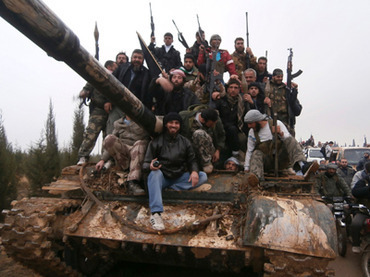 WASHINGTON -- President Barack Obama declared Syria's main opposition group the sole "legitimate representative" of its country's people.
Benjamin DeRita's insight:
This most recent development regarding the Syrian Civil War may shape the conflict going forward into 2013. A month after meetings in Qatar, the United States is now giving recognition to what it has deemed the most legitimate rebel group in the form of the Syrian Opposition Council. Most importantly in this writers opinion is the blacklisting of known al-Qaida groups hijacking the rebel cause. It is now known terrorist groups are among a fraction of the rebels attempting to seize any form of power that should come out of a failed Syrian state. Along with this was last week's developing story of the possible use of chemical weapons stemming from reports of pro al-Assad militant groups preparing "sarin." Global leaders and allies of the United States made a clear proclamation that the use of chemical weapons by al-Assad on his countrymen would not be tolerated. As of now the organization of the rebel alliance up to US specifications is a step, but in what direction? With winter approaching an estimated 500,000 refugees are currently displaced as a result of the Civil War, exposer could add to the already 40,000 dead in the coming weeks. Finally, as a direct result of the elevated status of the Syrian Opposition Council, they are expected to receive non-lethal humanitarian aid and possibly direct representation in Washington in the near future.