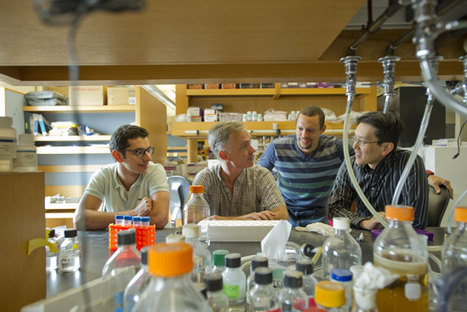 BU poised to become a synthetic biology powerhouse
By Art Jahnke
"The age of synthetic biology was turned on, literally, with a switch built by two BU researchers 13 years ago. James Collins, now a William Fairfield Warren Distinguished Professor and a College of Engineering professor of biomedical engineering, and his graduate student Timothy Gardner (ENG'00) altered the genes of E. coli bacteria so that they could be made to produce proteins or not produce proteins, essentially creating a two-gene on/off switch for a biological circuit.
The researchers described the achievement in a paper published in Nature in January 2000, an issue that also described a three-gene oscillating circuit built with the same genetic components by two Princeton physicists. Exactly 10 years later, Nature described the work done at BU and Princeton as the "defining pair of experiments" that mark the start of synthetic biology.
In those days, says Collins, who is also a Howard Hughes Medical Institute investigator, the Human Genome Project had captured the attention of cutting-edge biologists, as well as of the press. It would be years before the appellation "synthetic biology" entered the vernacular, and more important, before the science was distinguished from genetic engineering. Today, he says, the difference between the two fields is almost as clear as on and off.
"What genetic engineers were doing was cutting and pasting," says Collins. "They were introducing genes to enable organisms to be production organisms—they were essentially swapping a red lightbulb for a green lightbulb." By contrast, he says, synthetic biologists design and build the circuits that power the bulb. "Introducing the lightbulb is not engineering. That's home design. Designing the circuit is engineering. Synthetic biology is genetic engineering on steroids."
Collins' standard definition of the field goes like this: "Synthetic engineering is a new field that is bringing together engineers and biologists who design and construct biomolecular components and synthetic gene networks to reprogram cells, endowing them with novel functions....."
http://bit.ly/SSEqcH