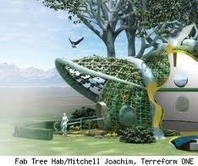 by
+Rachel Armstrong
"Synthetic biology can play an important role in the future of our cities, via economic benefits, functional benefits, and infusing our social spaces with enjoyable, emotional qualities.
We're living in an age of synthetic biology where we can design and engineer organisms using life's building blocks such as, fats, proteins, minerals and genetic code.
This is a relatively new practice in science and we're still trying to figure out exactly what kinds of challenges life's processes are best placed to address and how we can use these 'technologies of life' in everyday situations.
My work looks at how synthetic biology can be used in the built environment to help our buildings be less like machines and more like natural systems.
From a design perspective, the most striking characteristic of synthetic biology is that its materials are uniquely lively - and I wondered how curious it might be if it was possible to invite life's processes - to be co-authors in an open system of architectural design....."