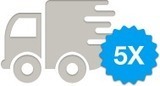 Import2 is a simple, easy-to-use data switching software tool.
5X Faster, At 10% The Cost!!
Because all our data import tools are automated, price and turnaround time for data migration are extra-ordinary.
You can move years of person blog history for just $12 and export full business CRM database in less than an hour.