Scoop.it!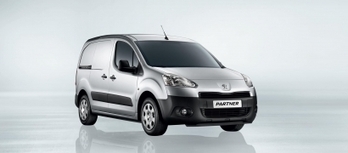 Peugeot launches new electric van - Renewable Energy Magazine, at the heart of clean energy journalism
Digital Sustainability's insight:
The new van combines all the features of the standard Partner van which, according to the company, is currently Britain's best selling small van. The electric version is aimed at all business users who wish to reduce their environmental footprint and fuel costs and was first presented at the Brussels Motor Show in January. It will be launched officially in the UK on 23rd May 2013.
The van has a load volume of 3.3m3 on the L1 with a load length of 1.80m, a payload of up to 636kg and a GVW of 2,225kg. It can accommodate three people in the front and the retractable side passenger seat provides an additional 400 litres of load volume which increases the loading capacity 3.7m3 on the L1 with a load length of 3 metres.
The van's advanced permanent magnet synchronous 49kW electric motor and 22.5kWh lithium ion battery pack gives the vehicle a potential range of up to 106 miles as tested on the New European Drive Cycle (NEDC). In combination with the eco-driving control system this allows the driver to limit energy consumption to a level compatible with that of small van customers, most of whom make daily journeys of less than 60 miles. The vehicle has a top speed of 68mph and includes ABS brakes, air conditioning, remote central door locking and Electronic Stability Control (ESC). The price of £21,300 plus VAT reduces to £16,750.50 with the government's Plug-in Van Grant.
The company estimates that running costs for the van currently stand at between £1.25 and £2.80 per 100 miles. The battery can be charged in seven and a half hours or 80 percent charged in 35 minutes using a fast charging unit.
Additionally, the government has encouraged the use of electric vans through the provision of £30 million support for the 'Plugged in Places' programme which promotes the installation of charging infrastructure for electric vehicles. It is also exempted from Benefit in Kind for business users and UK road tax and the London Congestion Charge.