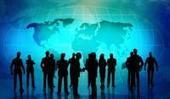 Over time, people across the world have self-organized themselves in a variety of ways. There are tribes, villages, towns and cities. Then there are city-states, nation-states and even empires.
All have cultures, even subcultures that make them distinctive and give them an identity. They have borders that create separation and avenues of commerce that promote their economies.
Emerging now is a global village. A complex interdependent society, comprised of nations and ethnicities that span the world, draws upon a global intercultural workplace for organizational operations and social well-being, and intertwines national economies ultimately forming a single system. People with their cultural worldviews and personal and professional dreams and aspirations routinely interface—meet—and interact. It is in this context that modern business organizations take shape and function.