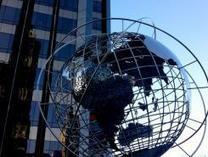 What trends can we expect in 2013?
Sustainability reporting is growing – especially integrated reporting of financial and sustainability reports.
The CFO's role in sustainability is on the rise.
Employees are a key stakeholder group for sustainability programs and reporting.
Employees rank just under customers as a primary driver and audience of sustainability efforts.
Greenhouse gas and water reporting are increasingly strong considerations despite regulatory uncertainty.
Awareness of the scarcity of business resources is on the rise – specifically access to water, water management, water in the supply chain.
Company executives rely on rankings and surveys.
Green Supply Chain has elevated sustainable supply chain management as a strategic business sustainability function and including suppliers in the process.
Big and small firms continue to join forces, continuing B2B collaboration.
Continuation of private/ public NGO forces uniting for greater good.
Emerging markets and their impact.
Wider adaptation of social media for stakeholder engagement.
The role of boards: oversight and inclusion of business sustainability mandates.
Continued developments with sustainable packaging.
Social media marketing gains as key in CSR communications.