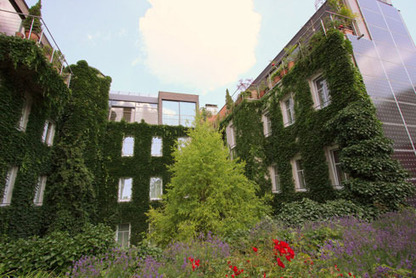 Holidaying in Vienna and having nothing on your conscience more serious than a few too many slices of Sachertorte: you can do it if you stay at the Boutiquehotel Stadthalle, the world's first city centre hotel with a zero energy balance certified by the European environmental quality mark.
All the energy the hotel complex requires is generated from renewable energy sources: a geothermal pump, a photovoltaic installation, solar panels and "active thermal slabs": thermal activation of concrete and, in the near future, wind power. Rainwater is used for the toilets and to water the garden.
Other measures decrease the consumption of the hotel which is divided into two volumes: a renovated existing building and a new expansion built according to the dictates of passive construction with cement cladding...