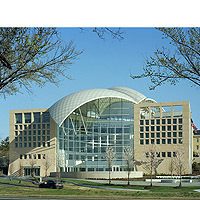 Designed by Moshe Safdie, this new landmark provides the first permanent home for the peace institute, created by the U.S. Congress in 1984 as an independent, nonpartisan center for nonviolent conflict management.
The atria and extensive glazing of this LEED Gold-certified building help transmit daylight throughout the workspace, as well as providing views of the city and its monuments.
Other sustainable features at the USIP building include high-efficiency condensing boilers, water-conserving plumbing fixtures, and paints and other finishes low in volatile organic compounds (VOCs).