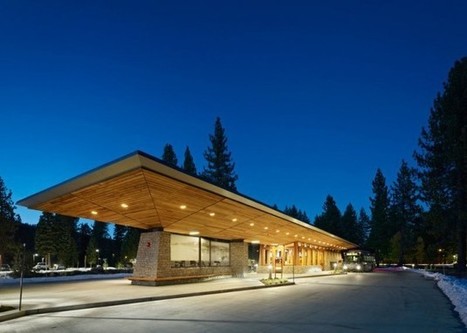 The Tahoe City Transit Center incorporates surface parking, a bus loop, and a transit facility with a minimized footprint.
A snow melt system around the edge of the roof gradually melts the snow, and a rainwater harvesting system collects the water in gutters, stores it in a 4,000-gallon cistern, and reuses it for irrigation and toilet flushing.
The site layout incorporates existing trees and paths. Sustainable landscape strategies include pervious pavement in the parking areas, use of local materials, and low-water native planting and vegetation.
The building conserves energy in a number of ways. Laminated solar cells are integrated into the roof, supplying most of the facility's peak load. Operable windows and a clerestory facilitate natural ventilation. The broad roof eaves provide shade in the warm months; in the cold months, the angle of the roof allows direct sunlight, filtered by the trees, to illuminate the narrow floor plate. Thermally massive walls, high-performance insulated glazing, and radiant heating further reduce energy consumption.