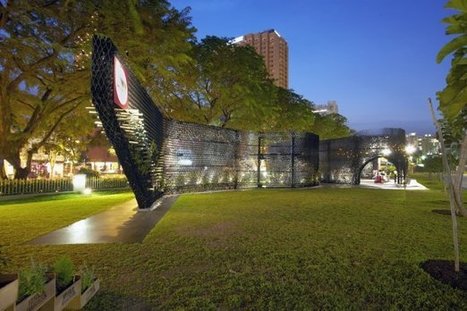 WOW Architects was selected to design and build the first-ever Pavilion for Singapore's Archifest last year.
The aesthetic design of the pavilion was a response to the duality of the site, while the zero waste and buildability strategy was developed around two highly rapid deployable and re-useable systems. The first is the main structure, composed of box-truss systems, and the second is a polymer mesh developed for slope control that has unique attributes that enhance the usability and interaction of the space.

To achieve zero-waste, the design team considered time, materials, cost and the afterlife of the elements, with a . The box-truss system, including the roof takes a maximum of approximately 7 days to deploy, while the membrane takes a maximum of approximately 3 days to install. Overall time frame to complete construction is 10-15 days.
The cellular membrane can be re-used in Fort Canning Hill's other areas requiring slope protection and stabilization or it will be donated to a nearby country whose village/farmland has been affected by soil erosion from slopes.