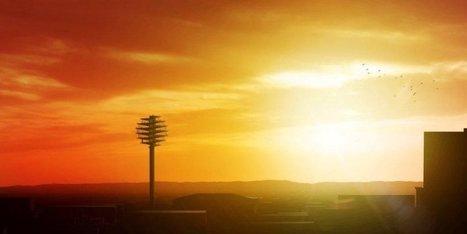 Located in downtown Phoenix, the 70,000 sf Observation Tower shall add a significant structure to the Phoenix skyline from which to enjoy the city's spectacular views of the surrounding mountain ranges and dramatic sunsets. Phoenix-based developer Novawest, commissioned the team to create a destination event to provide tourists and citizens of Phoenix alike the chance to enjoy the unique features of the Valley of the Sun.

The future observation tower is conceived as a tall core of reinforced concrete with an open-air spiral sphere at its top, resembling a metaphorical pin firmly marking a location on a map.
Walking downwards from the top through a continuous spiral promenade, the visitors of the observation tower experience all of the building's programs in a constant motion, while enjoying dynamic 360 degree views of the city of Phoenix and the Arizonian landscape.

The base of the tower will serve as a public plaza offering shade, water features and a small amount of retail together with a subterranean queuing area. The tower will serve as a working model of sustainable energy practices, incorporating a blend of solar and other technologies.