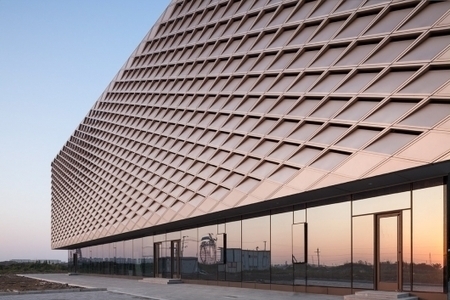 As part of the master plan designed by HENN, the new Nantong Urban Planning Museum is located prominently along the central river.
The museum is characterized as a floating volume, resting on a glass pedestal, with space for special exhibitions, a café and bookstore. The overall dominant form which cantilevers above the glass entry contains the primary exhibition space, offices, and conference rooms.
Its distinctive façade is composed of two layers: the inner thermally seals the building envelope, and the outer is a reticulated metal structure with varied panels. The façade's diamond-shaped grid is comprised of seven different panels that allow for varying degrees of opening from 9%-60%. This provides for the controlled regulation of sunlight in fine increments, to accommodate the needs of the interior program. The exhibition spaces are therefore, characterized by a predominantly closed façade with minimal openings, and the offices with maximum levels of natural daylight...