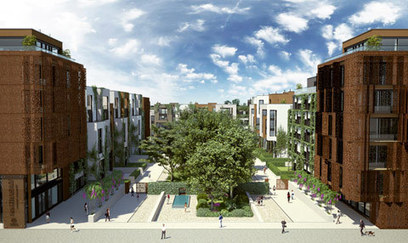 In Marthashof ecological living is defined by geothermal energy, a wood-pellet heating system and rainwater recovery. Geothermal energy can be used to both heat and cool, and the heating systems in Marthashof's residential and commercial units are also designed to create extra warmth during the colder months. Green spaces represent around 30 percent of the total surface area in Marthashof Urban Village and are maintained using rainwater that has been stored in underground cisterns.
The sustainability concept doesn't end there: Highly efficient building insulation, integrated heat exchangers to control the ventilation of living spaces, minimized thermal bridges and a generous green roof terrace make the Marthashof Urban Village, built by Stofanel Investment AG, a trail-blazing project.
In December 2011, the Stofanel Project Marthashof Urban Village in Berlin's Prenzlauer Berg won the eco-immobilienawardberlin 2011. This new immobilienawardberlin award is dedicated to sustainable building and was bestowed for the first time in 2011. Previously it had been awarded biannually in the areas of residential and office construction, retail and specialist real estate...