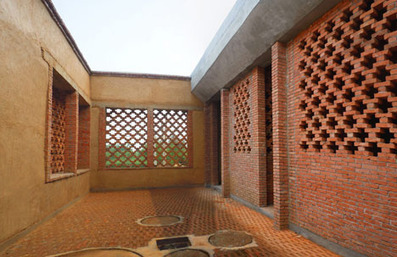 Self-sufficient house adapted from traditional Chinese rural architecture by John Lin, winner of the AR House award 2012.
Lin, who is an architecture professor at the University of Hong Kong, designed the house in Shijia Village, north-eastern China, as a model that would encourage village residents to be less dependent on outside goods and services.
The Architectural Review has presented its 2012 House Award to John Lin, a Hong Kong-based architect whose innovative work takes him into the interstices of the extraordinary transformation underway in China's cities, towns and rural areas.
Lin's winning project is an updated version of the vernacular mud brick courtyard house that populates China's vast rural areas. His design for a modern prototype of this traditional locus of rural life, increasingly at risk, brings together both old and new, incorporating concrete technology with original mud brick construction...