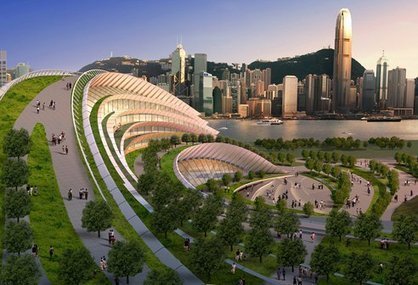 Aedas designs a railway station like a hill you can walk on.
It used to be that roofs were up top where nobody could see them, covered in gravel and full of mechanical equipment. Architectural renderings were pretty much all shot from eye level. Not anymore; green roof technology is making roofs into habitable architecture, and changing the way architects think of buildings.
The Express Rail Link - West Kowloon Terminus by Aedas will connect Hong Kong to the National High Speed Rail Network. The terminal's roof is a series of ribbons that meet ground level, turning the building into a big walkable (climbable?) hill...