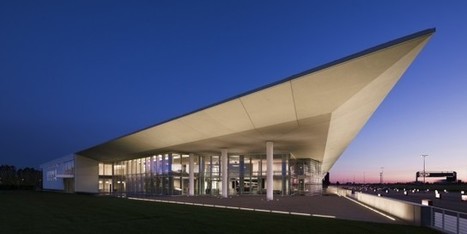 Richard Meier & Partners celebrates the opening of the Italcementi i.lab in Bergamo, Italy. The new building is a benchmark of sustainable design in Europe and it has attained one of the first LEED Platinum accreditations in Italy.
Italcementi i.lab, the new research and development center for Italcementi is intended to reflect the company's position of leadership, technological advancement and commitment to research and innovation in the use of concrete.
One of the top five cement manufacturers in the world, Italcementi is internationally recognized for its dedication to Sustainable Development. Dukho Yeon, Design Partner-in-charge, comments: "This is our fourth completed project in Italy, after the Jesolo Lido Village, the Ara Pacis Museum, and the Jubilee Church. i.lab is our firm's most sustainable building to date embodied in sculptural and dramatic, but simple forms showcasing the possibilities of concrete in perfect balance with the technical purpose of the building."
Each element of the building's organization reflects an ambitious effort, both in Richard Meier & Partners focus on sustainable architecture and in the innovative use of efficient materials and construction solutions...