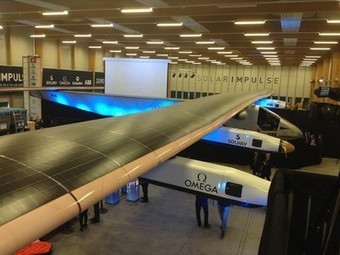 The Solar Impulse 2 is the real deal, a solar electric airplane that is going to fly around the world.
You've probably heard of the Solar Impulse. It's a solar-powered airplane that flew across the United States last year. It broke numerous aviation records along the way as well as during flights in Europe and Africa beforehand. However, the Solar Impulse was just a prototype. The Solar Impulse 2 is the real deal, and it was just unveiled earlier today in a remote corner of Switzerland. Thanks to one of its main partners, ABB, I was able to attend the unveiling. Furthermore, I was provided an exclusive interview with Solar Impulse co-founders Bertrand Piccard and André Borschberg. The interview with Bertrand is below. The interview with André is on an ABB camera and I'll have to wait to share that.First, however, here are two great videos from the Solar Impulse team about the new solar-powered airplane:
To read the full article and view the chart, click on the title or image.
Get your Free Business Plan Template here: http://bit.ly/1aKy7km
Via
Marc Kneepkens