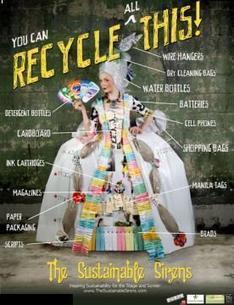 Hollywood Costume Designer Kresta Lins, has taken the discussion a little farther, and started a public campaign.
Her mission: To Green Hollywood One Costume At a Time.
Kresta's green crusade started when she was writing green articles for the Costume Designers Guild newsletter. Her research for an article about recyclable materials in the costume department made her realize how much waste was never recycled due to the lack of information and proper systems for disposal. But she didn't stop there, Kresta took her mission to the next level, and created a dress "The Costume Department" dress, that would start a campaign that aims to educate and inspire the members of the entertainment industry to use less, recycle more and make Hollywood a greener industry.
Meet Kresta Lins, a costume designer with a mission to help Hollywood become greener by telling a story of recycling and sustainability through the art of costume design. (More)