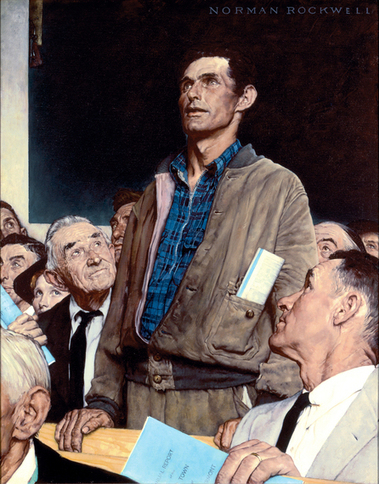 The great political struggle we now face is whether the United States retains its democratic heritage or whether we move toward an oligarchic form of society where the real political power rests with a handful of billionaires, not ordinary Americans....
Sen. Bernie Sanders
Independent U.S. Senator from Vermont
Posted: 03/31/2014 6:01 pm EDT Updated: 03/31/2014 6:59 pm EDT
In his 1943 painting "Freedom of Speech," Norman Rockwell illustrated American democracy in action by depicting a man speaking up at a town meeting. A framed poster of Rockwell's painting hangs proudly on a wall in my Senate office in Burlington, Vt.
Since 1990, when I was first elected to Congress, I have held hundreds of town meetings in almost every community in Vermont. Just this past Sunday I held a town meeting in Middlebury, Vt., with a video connection to meetings in three other towns. At these town meetings I listen to what my constituents have to say, answer questions and give a rundown of what I'm working on and what's going on in Washington.
This process -- an elected official meeting with ordinary citizens -- is called "democracy."
Ironically, at the same time as I was holding town meetings in Vermont, a handful of prospective 2016 Republican presidential candidates (Jeb Bush, John Kasich, Chris Christie and Scott Walker) trekked to Las Vegas to audition for the support of Sheldon Adelson, the multibillionaire casino tycoon who spent at least $93 million underwriting conservative candidates in the last election cycle. Those candidates were in Las Vegas for the sole purpose of attempting to win hundreds of millions from him for their presidential campaigns.
Read more and watch Senator Sanders address Congress via embedded YouTube video at
http://www.huffingtonpost.com/rep-bernie-sanders/democracy-vs-oligarchy_b_5065514.html
Via
Coffee Party USA