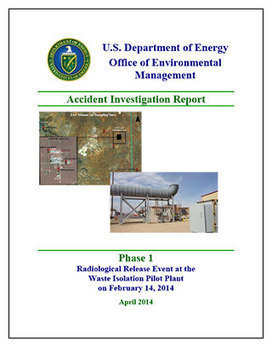 Carlsbad, New Mexico – A vast salt mine under the New Mexico desert was the Department of Energy's last nuclear waste storage solution. On Valentines night, one of the now suspect 500 waste drums from DOE's Los Alamos National Laboratory (LANL) blast open inside DOE's Waste Isolation Pilot Plant (WIPP). Casks filled with 3.2 million cubic feet of deadly radioactive wastes remain buried at the crippled plant. That huge facility was rendered useless. Investigators believe the waste drums from Los Alamos were incorrectly packed under DOE supervision and one of them exploded.
"As part of the ongoing efforts to identify the cause of the event at the Waste Isolation Pilot Plant, we are evaluating all possible causes including the waste packages themselves," a statement issued by DOE says. "All possible scenarios will be thoroughly investigated until the cause of the event has been determined." Investigators are examining "the possibility that a chemical reaction may have occurred within a drum, causing a potential release."
The disaster at WIPP is rooted in careless contractors and lack of DOE oversight, according to aDOE report released on April 24.