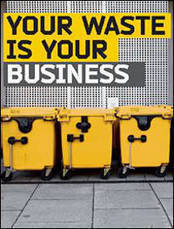 DOCUMENTARY (54.27)
"UNWASTED: THE FUTURE OF BUSINESS ON EARTH"
A close look at companies who are working on creating a less wasteful, more cost-effective and environmentally tenable society.
There is no waste in nature. When a tree falls it's only halfway through its life. When a bear or animal finishes eating food and processes it in its body that becomes fertilizer for future life in the forest flora.
So it's a beautiful thing the way nature has worked this all out. There is no waste in nature; the human animal is in fact the only animal on the planet to create waste that nature cannot process.
The reason you should care about this is because that's going to make a difference for the environment, for the economy, for your costs, for all the things you care about. In economics there's this term of "externalities" and there's a lot of cost out there that we collectively bear as a society, whether it's habitat destruction, whether it's cost that are directly being imposed on us the citizens who didn't ask for those costs to be put on us. http://topdocumentaryfilms.com/unwasted-future-business-earth/
▶ THE CIRCULAR ECONOMY: COULD IT PRESENT A NEW WAY OF DOING BUSINESS? http://sco.lt/8plSHx
FastCoExist:
▶ 5 BUSINESS MODELS THAT ARE DRIVING THE CIRCULAR ECONOMY http://www.fastcoexist.com/1681904/5-business-models-that-are-driving-the-circular-economy
Global Onenes Project
▶ MORE WITH LESS: WHAT WOULD NATURE DO?
We are using resources faster than they replenish -- from fossil fuel reserves and groundwater to the thousands of plant and animal species now permanently lost from our planet.
To support outer efforts towards sustainability we need to radically adjust our inner attitudes toward the material world. Relationships based on greed, over-identification with ownership, and the use of material goods to establish status and power over others, can be traded for new values and ways of living that empower a healthy and dignified relationship to all the earth's resources.
https://www.globalonenessproject.org/library/themes/more-less
▶ THE OVERWHELMING IMPACT OF E-WASTE: What is the human and environmental cost of new technology? http://sco.lt/6jBufh
Guardian Environment, George Monbiot, April 12, 2013
-▶ LET'S STOP HIDING BEHIND RECYCLING AND BE HONEST ABOUT CONSUMPTION http://www.theguardian.com/environment/georgemonbiot/2013/apr/12/escalating-consumption
WATCH:
Quest TV
FROM WASTE TO WATTS: BIOFUEL BONANZA
http://science.kqed.org/quest/video/from-waste-to-watts-biofuel-bonanza/
▶ DISPELLING THE MYTH OF CLEAN, GREEN BIOMASS POWER DRIVEN BY THE INDUSTRY http://sco.lt/7j2i8n
Via
pdjmoo