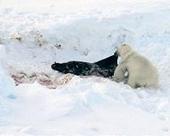 Feb 18, 2014 - As the Arctic continues to see dramatic declines in seasonal sea ice, warming temperatures and increased storminess, the responses of marine mammals can provide clues to how the ecosystem is responding to these physical drivers.
Seals, walruses and polar bears rely on seasonal sea ice for habitat and must adapt to the sudden loss of ice, while migratory species such as whales appear to be finding new prey, altering migration timing and moving to new habitats.
"Marine mammals can act as ecosystem sentinels because they respond to climate change through shifts in distribution, timing of their movements and feeding locations," said Sue Moore, Ph.D., a NOAA oceanographer, who spoke at the annual meeting of the American Association for the Advancement of Science in Chicago. "These long-lived mammals also reflect changes to the ecosystem in their shifts in diet, body condition and physical health."