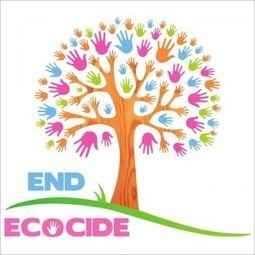 "You never change things by fighting the existing reality. To change something, build a new model that makes the existing model obsolete." –Buckminister Fuller
We live in the age of ecocide. Defined as the extensive damage, destruction or loss of ecosystems of a given territory, ecocide is the result of the way people, corporations, and governments are running their affairs all around the globe. But ecocide doesn't have to be the status quo. A new law being proposed in the European Union would protect ecosystems by giving them legal standing. Under such a law, the Earth would no longer exist purely as property or a set of resources to be exploited. Instead people and institutions would acknowledge the intrinsic value of ecosystems and accept the legal duty to protect them.
Ending ecocide requires nothing short of a paradigm shift. This shift, in turn, requires a cultural change — a movement away from exploitation and toward stewardship of nature. The cultural shift is unfolding as people, especially the younger generation, internalize the evidence of ecocide and its devastating consequences constantly being issued in reports about global warming, species extinctions, and natural resource depletion. But we need more than just a cultural shift. We need specific and revolutionary changes in two subsystems of society: the legal framework and the economy.