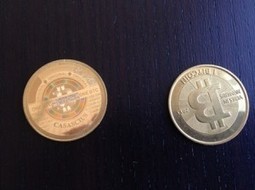 In the first week of July, Jay Shore got bad news. U.S. Bank and Chase informed him they were closing the accounts for his company, Coinabul, a San Diego-based precious metals buyer that sells silver and gold for Bitcoin. They didn't want to house his half-million dollars. Chase was mum on the reason but Shore says a U.S. Bank compliance officer told him it was shutting down all small Bitcoin clients.
"They tried to force me to take a cashier's check but I refused," said Shore who worried he wouldn't be able to deposit it elsewhere. He made a dozen trips to U.S. Bank because they wouldn't give him more than $30,000 at a time. "The money is now sitting in our corporate vaults along with our metals."
Bitcoin – invented in 2009 by a mysterious programmer – is a replacement for state-backed currency, "mined" from the Internet via complex computing. It's been booming this fall; one Bitcoin is currently worth over $400, its value doubling over the last month.
It has limited real world uses now but offers, as investor Peter Thiel says the "world-changing" promise of online transactions without fees, third parties or identity; it's the online equivalent of paying someone in cash, and it works universally. Long popular with those using it to buy and sell illicit goods online, it's now found new fans: the venture capital community, taking the place in their hearts left empty by social networking companies that have IPO'ed. Second Market, which sold Facebook shares before the company went public, now has an investment fund for the $4-billion Bitcoin market.
The Winklevoss twins have put $1.5 million into Bitcoin exchange BitInstant, while also applying with the SEC to start a Bitcoin ETF. Union Square Ventures, Lightspeed Venture Partners, Jim Breyer, Accel, and Google Ventures are among those pouring millions into promising cryptocoin start-ups. But many Bitcoin start-ups have a big problem: they can't get bank accounts. Shore is one of the many Bitcoin entrepreneurs sent packing in the last few months.
Click headline to read more--
Via
Chuck Sherwood, Senior Associate, TeleDimensions, Inc